A visual inspection for bed bugs performed by a trained pest management professional is typically 30-50% accurate at best! Where as a person needs to see signs of bed bugs in order to identify their presence, a trained and well-maintained K-9 can detect the presence of even a single bed bug well before you can see signs of bed bug activity. This allows Aegis to both identify and act quickly before a problem gets out of hand.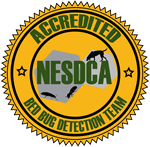 Aegis Pest Management utilizes highly trained and NESDCA certified K-9 handler teams. Our bed bug detection teams have performed literally tens of thousands of inspections in single family homes, condominiums, apartments, hotels, offices, warehouses and restaurants and even automobiles and buses.
What is a NESDCA Certification and why is important to you? NESDCA stands for National Entomolgy Scent Detection Canine Association. A NESDCA Certification is the most important independent accreditation for K-9 bed bug detection team. Formed by pest control professionals and scientists to ensure that the highest standards of professionalism from a K-9 and handler team. NESDCA was formed by Pest Control Professionals to ensure the highest standards are upheld.